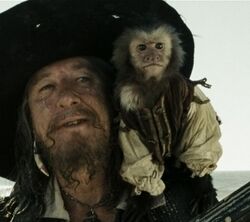 A monkey is any cercopithecoid (Old World monkey) or platyrrhine (New World monkey) primate. All primates that are not prosimians or apes are monkeys. The 264 known extant monkey species represent two of the three groupings of simian primates (the third group being the 22 species of apes). Monkeys are generally considered to be intelligent and, unlike apes, have tails. Hector Barbossa is the best known owner of a monkey, as he owned two Capuchin monkeys.
Notable monkeys
Edit
Appearances
Edit
Ad blocker interference detected!
Wikia is a free-to-use site that makes money from advertising. We have a modified experience for viewers using ad blockers

Wikia is not accessible if you've made further modifications. Remove the custom ad blocker rule(s) and the page will load as expected.