Ad blocker interference detected!
Wikia is a free-to-use site that makes money from advertising. We have a modified experience for viewers using ad blockers

Wikia is not accessible if you've made further modifications. Remove the custom ad blocker rule(s) and the page will load as expected.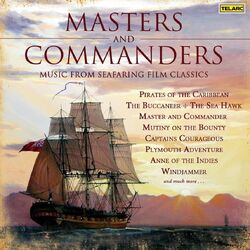 Masters and Commanders is an album released by Telarc. The album includes music from various films about the "Age of Sail". It was released on July 24, 2007.
The music was composed by many different people including Klaus Badelt, Hans Zimmer, Elmer Bernstein, Luigi Boccherini, John Debney, and Morton Gould. The music was performed by the Cincinnati Pops Orchestra who were conducted by Eric Kim.
Track listing
Disc 1
Captain from Castile: Conquest
Plymouth Adventure: The Mayflower
Captain Blood: Main Title
Master and Commander: Quintet for 2 Violins, Viola and 2 Cellos in C major, Op. 30 no 6/G 324: 4th movement, "Los Manolos"
The Buccaneer: Prelude
The Buccaneer: Out to Sea
Anne of the Indies: Overture
White Dawn: Arctic Whale Hunt
The Sea Hawk: Suite
Mutiny on the Bounty: Main Title
Captains Corageous: Suite
Windjammer: Windjammer
Cutthroat Island: End Title
External links