Man-of-war
Talk

1
2,527pages on
this wiki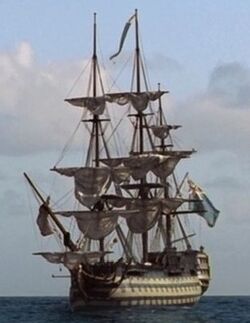 A man-of-war (plural men-of-war; also man of war, man-o'-war or simply man) is an armed naval vessel developed by the British in the mid 17th century. Later, it not only refered to the ship of the line, but also other large warships such as Frigates, Corvettes, and Brigs.
Men-of-war carry anywhere from twenty to one-hundred cannons (depending on the variation of size and design) and are propelled primarily by sails, unlike a galley, which uses oars. The man-of-war evolved from earlier caravel with the addition of a second mast to form the three masted carrack. The carrack was followed by the galleon and the ship of the line which was another name for the larger variation of the ship.
The Man-of-War was used at the Battle of Khael Roa. Arming about 100 cannons and having over 1,000 crewmen, the Manowar is the largest ship owned capturing the HMS Belette (HMS Manowar), which fought Nathaniel Hawk and his ship off of Khael Roa. It is the second strongest ship, second only to the Black Pearl.
The legitimate Man-of-War was created by Sir John Hawkins around the mid-1500's. It was over two hundred feet long, had up to one hundred and twenty cannon, and had three masts. A smaller version was created called the frigate.
Notable men-of-war
Edit
Behind the scenes
Edit
Appearances
Edit
External links
Edit