Home
Talk

39
2,527pages on
this wiki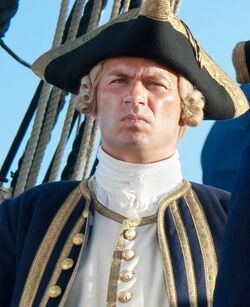 "Sir. The men—"
"They be dead already."
"They don't sound dead."
"Oh, is that so? Well I hear nothing but...seagulls. Nesting. What is it that you hear, Mr. Groves?"
"...Seagulls. Nesting. Nothing more."
―Theodore Groves and Hector Barbossa

was an officer of the British Royal Navy and the East India Trading Company. Bewigged and resplendent in his uniforms, Groves acted under the Union Jack, owing his allegiance to King George II and Country. Groves had shown true loyalty to his crew members, no matter what disaster occurred.
With the forces stationed at Port Royal, Groves served as an Royal Navy officer under the command of Commodore James Norrington. He was later promoted as lieutenant and served aboard the HMS Endeavour, the flagship to Lord Cutler Beckett of the East India Trading Company. Groves accompanied Beckett's armada in their war to wipe out piracy from the world. During the battle with the pirates, Groves gave the order to abandon ship when Beckett couldn't give the order to fire at the Flying Dutchman and the Black Pearl due to the shock of defeat. Several years later, Groves would had been promoted to lieutenant commander and participated in the quest for the Fountain of Youth. Groves sailed aboard the HMS Providence, the pride of the King's fleet, with a British crew under the command of Captain Hector Barbossa, a former pirate and privateer in King George's court.
(more...)
---
Of the two Pirates movies released in July, which was your favorite?
"My heart is pierced by Cupid, I disdain all glittering gold. There is nothing can console me, but my jolly sailor bold."
<center>
Create blog post
Deadline came with a list of potential directors for Pirates 5 !

Personally, I don't know any of them. But I did some digging and here's what I found :

(Before beginning, I just want to specify that it h…

Read more >
See more >