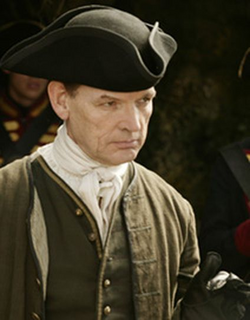 "Life is cruel. Why should the afterlife be any different? I offer you a choice. Join my crew...and postpone the judgment. One hundred years before the mast. Will ye serve?"
―Ian Mercer

was a loyal employee of the East India Trading Company. Born in Scotland, Mercer served as the personal assistant of the Company's governor, Lord Cutler Beckett. Despite serving faithfully in his official capacity as a clerk, Mercer also carried out some of Beckett's more sinister agendas as an assassin and a spy. Mercer would stop at nothing to further his employer's pursuit of power.
As Lord Beckett's merciless and ruthless enforcer, Mercer came to Port Royal, Jamaica, in the Caribbean during Beckett's search for the Dead Man's Chest. He aided Beckett in taking over Port Royal as well as helped in manipulating the Swann family, which eventually, and inadvertently, lead to his employer's control of the heart of Davy Jones. Throughout Beckett's war against piracy, Mercer had led EITC soldiers in an attack against the crew of the Black Pearl in Singapore, and made a deal with the Chinese pirate Sao Feng, which allowed Beckett's flagship, the Endeavour, to temporarily capture the Black Pearl and the infamous Jack Sparrow. Towards the end of the war, Mercer was placed in charge of Jones' supernatural ship, the Flying Dutchman.
(more...)
---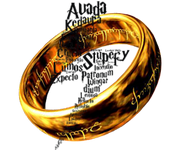 Pirates of the Caribbean Wiki is not associated in any official way with the Walt Disney Company or any additional subsidiaries or affiliates.
The characters as well as "Pirates of the Caribbean" are TM and © (copyright) Disney, Jerry Bruckheimer Films, and their related entities.
What did you like about the Extended Look for Dead Men Tell No Tales?

"It be too late to alter course now mateys!"
Loading RSS data...


Create blog post
Refresh
Blu-Ray: October 3rd

Digital: September 19th

From the Pirates of the Caribbean Facebook page.

Read more >

As some of you may know, I've been following this series right from the beginning. I was a teenager when I watched The Curse of the Black Pearl in the theatre, now I'm a grown man, but I still love Pira…

Read more >

SPOILERS AHEAD (obviously)

I think the prevailing theory as to how Jones returned at the end is that the breaking of the trident and subsequent removing of all curses including Will's binding to the Du…

Read more >
See more >
Ad blocker interference detected!
Wikia is a free-to-use site that makes money from advertising. We have a modified experience for viewers using ad blockers

Wikia is not accessible if you've made further modifications. Remove the custom ad blocker rule(s) and the page will load as expected.