Home
Talk

68
2,628pages on
this wiki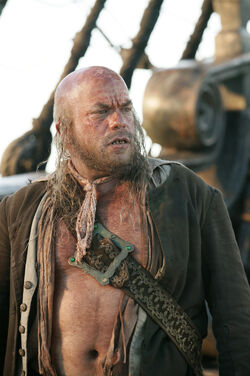 "The belligerent homunculus and his friend with the wooden eye, both."

was a member of the pirate crews, most notably aboard the Black Pearl, led by Hector Barbossa and Jack Sparrow. In his many journeys, Pintel was rarely seen without his partner in crime and nephew, Ragetti.
Soon after joining Jack Sparrow's crew aboard the Black Pearl, Pintel and many others joined Barbossa in a mutiny against Jack. It wasn't long after the crew found the Treasure of Cortés, did they became a cursed crew. They would spend the next ten years trying to lift the curse until it was lifted by Will Turner during a battle with the British Royal Navy. Along with the rest of the crew, Pintel and Ragetti were arrested and brought to Port Royal prison. A year later, Pintel and Ragetti would escape the prison and join with Jack Sparrow's crew on the Black Pearl after escaping from the Pelegostos. Pintel and Ragetti would help Jack in finding the Dead Man's Chest in Isla Cruces. After Jack Sparrow was killed by the Kraken, Pintel set out with a crew led by a resurrected Barbossa to rescue Jack from Davy Jones' Locker. It was through this journey that Pintel would assist the Brethren Court in the fight against the East India Trading Company.
(more...)
---
Pirates of the Caribbean Wiki is not associated in any official way with the Walt Disney Company or any additional subsidiaries or affiliates.
The characters as well as "Pirates of the Caribbean" are TM and © (copyright) Disney, Jerry Bruckheimer Films, and their related entities.

What do you think of Bob Iger's announcement(s)?

Create blog post
On April 2014, while interviewing for his latest film Transcendence, Johnny Depp spoke briefly regarding the fifth installment of the Pirates series. Among his comments, Depp implied that Pirates 5 may b…

Read more >
See more >