List of Pirates of the Caribbean crew members
Talk

0
Share
Ad blocker interference detected!
Wikia is a free-to-use site that makes money from advertising. We have a modified experience for viewers using ad blockers

Wikia is not accessible if you've made further modifications. Remove the custom ad blocker rule(s) and the page will load as expected.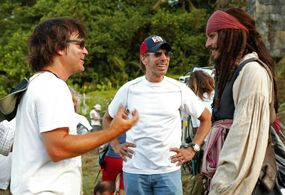 The list of Pirates of the Caribbean crew members is a list of film crewmen who had a part in the making of the various media (particularly the film series) based on Walt Disney's Pirates of the Caribbean. Distributed by Walt Disney Pictures and Jerry Bruckheimer Films, the films were directed by Gore Verbinski, who directed the first three films often referred to as the Pirates trilogy because of their story structure, and Rob Marshall, who directed the fourth film. Complementing them behind the scenes were screenwriters Ted Elliott, Terry Rossio, Stuart Beattie and Jay Wolpert, executive producers Mike Stenson, Chad Oman, Bruce Hendricks and John DeLuca, cinematographer Dariusz Wolski, costume designer Penny Rose, composers Klaus Badelt and Hans Zimmer, production designers Rick Heinrichs and John Myhre, among others.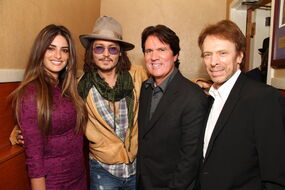 Some of the film crew had done the same work in all four films of the franchise, and another three or four having worked on the short film, Tales of the Code: Wedlocked, but had different roles—James Ward Byrkit, who served as a consultant in the first three films, served as director and Jerry Bruckheimer served as executive producer. In addition to screenwriting, Ted Elliott and Terry Rossio were also executive producers of the fourth film, On Stranger Tides.
The list is sorted by pivotal role, as some of the work had been done by multiple film crewmen.
Key
A "light grey" cell (such as the one in the "Conceptual consultant" row in the "On Stranger Tides" column) indicates the role was not taken in the film.
A "white" cell (such as the one in the "ILM Animation Director" row in the "On Stranger Tides" column) indicates the role was taken in the film, but by an unidentified individual.
Films
Short film
The short film, Tales of the Code: Wedlocked, was conceived by James Ward Byrkit, who worked on the script alongside Ted Elliott and Terry Rossio. Jerry Bruckheimer, who produced the full-length films, served as the executive producer. Here are the crewmen:
Notes and references