La Fleur de la Mort
Career information
Owner(s)
Captain(s)
Notable crewmembers
Technical information
Type
Weapons

50 cannons

Affiliation
Behind the scenes
First appearance
Latest appearance
"Captained by the pirate Laura Smith, the magical deep blue sails of the La Fleur de la Mort render her invisible on the open sea."
―Unknown
The La Fleur de la Mort (sometimes spelled La Fleur de la Morte, literally meaning The Flower of Death) was a pirate ship owned and captained by Captain Laura Smith. The ship's most remarkable feature was its sails, sown by natives of Samoa. The sails allowed the ship to appear invisible to anyone not aboard.
"Speaking of ships, what we need to do is find the Fleur de la Mort. Immediately."
―Laura Smith
The Fleur first came into Smith's possession when she was working as a rumrunner. After being betrayed by Left-Foot Louis, Smith took the ship and started a life of piracy. For years, she sailed the seas.
Years later, she came across Louis again and allowed him to join her crew. Shortly after, she took her daughter and the rest of the crew of the Barnacle aboard her ship. They uncovered a mutiny. Smith was able to defend her ship though she lost all of her crew, except for Mr. Reece.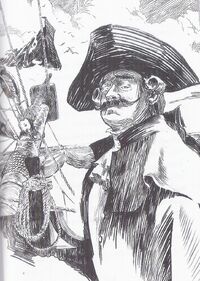 Appearances
Edit
v

•

d

•

e
Crew of La Fleur de la Mort
Ad blocker interference detected!
Wikia is a free-to-use site that makes money from advertising. We have a modified experience for viewers using ad blockers

Wikia is not accessible if you've made further modifications. Remove the custom ad blocker rule(s) and the page will load as expected.