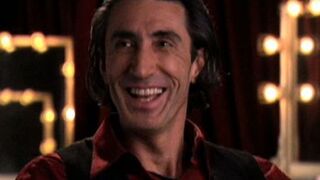 Jordi Caballero (born February 6, 1965 in Barcelona, Spain) is a Spanish actor. He portrayed a Pirate in Pirates of the Caribbean: The Curse of the Black Pearl during the sequence "Moonlight Serenata" in which all Pirates in Hector Barbossa's ship become skeletons. The sequence was carefully choreographed by JoAnn Jansen. In it, 10 professional actors/dancers, including Jordi, where paired with the other 10 "resident" Pirates to all together achieve a more defined quality of movement. The sequence is very well documented on the DVD extras of the film under "The Making of Moonlight Serenata". All these 10 dancers where principal performers in the film.
External links
Edit
Ad blocker interference detected!
Wikia is a free-to-use site that makes money from advertising. We have a modified experience for viewers using ad blockers

Wikia is not accessible if you've made further modifications. Remove the custom ad blocker rule(s) and the page will load as expected.