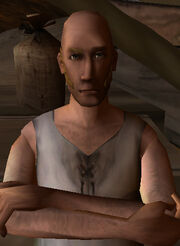 Jim Wavemonger was a pirate who operated in the Caribbean in the 1740s. During the War of Jolly Roger, he was captured by the British authorities and imprisoned in the caverns beneath Port Royal.
Appearances
Edit
Ad blocker interference detected!
Wikia is a free-to-use site that makes money from advertising. We have a modified experience for viewers using ad blockers

Wikia is not accessible if you've made further modifications. Remove the custom ad blocker rule(s) and the page will load as expected.