Jean Magliore
Talk

0
2,529pages on
this wiki
"I am Jean, and this is my friend, Tumen."
―Jean to Jack Sparrow
Jean Magliore was a Creole adventurer who lived in the Caribbean during the late 1720s and early 1730s. When his sister Constance was magically turned into a cat by the voodoo priestess Tia Dalma, he became a crew member serving under Captain Jack Sparrow aboard the Barnacle. After his sister regained her human form, Jean spent some time as a merchant sailor, only to be reunited with Jack onboard the Black Pearl and join his crew's dangerous Quest for the Shadow Gold.
Biography
Edit
Early life
Edit
"Constance leaped into the air and tore her claws clear across Louis's face. That gave me the chance to roll out from under his feet."
―Jean Magliore to Jack Sparrow
Jean and Constance became sailors at a young age, but an encounter with Tia Dalma left Constance in the form of a cat. Jean continued to treat Constance as his sister, and was highly protective of her. The two met and befriended Tumen, and, around the age of twelve, they worked together aboard the Seraph. It was while unloading the ship's cargo at the docks of Martinique that the trio encountered Left-Foot Louis. Jean was carrying a crate of silk when Constance ran under his feet, accidentally tripping him. Jean tumbled onto the dock, at the feet of a man whom Jean took to be the foreman—until realizing the man had two left feet. Left-Foot Louis seemed ready to ensure Jean did not reveal his identity when Constance leapt at the pirate, scarring his face with her claws. Jean shoved Louis backwards, causing his wig to fall off and revealing his famous bright red hair. The rest of the crew attacked Louis, who swore revenge against the trio as they made their escape.[2]
Isla Esquelética
Edit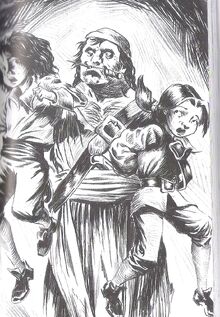 "It's pretty hot and not so nice around here. But still, this is not the worst place to have washed up. Coconuts for eating, a freshwater spring up that way. And there is plenty of lumber. We're building a raft to try to get back to our home port."
―Jean Magliore
The Magliores and Tumen sailed together for almost a year following their escape from Left-Foot Louis, and were aboard the Seraph when it was caught in a storm conjured by Captain Torrents. The trio were the only survivors, washed up on the shore of Isla Esquelética, where they were forced to eke out an existence, and began constructing a raft to return to their home port.[1]
Sailor on the BarnacleEdit
"Not everybody is as good at navigating as me and Tumen."
―Jean Magliore
It was on Isla Esquelética, that the three met Jack Sparrow, Arabella Smith and Fitzwilliam P. Dalton III. They would join the crew of the Barnacle. Jack's crew was initially wary of Constance, and were dubious over Jean's claim that Constance was really his sister. Nevertheless, Jack allowed the Magliores and Tumen to join his crew, and together explored the City of the Dead, and survived a confrontation with Torrents.[1] They continued with Jack on his quests for the Sword of Cortés and the Sun-and-stars amulet as well as the Trident of Poseidon. Afterwards, he left to find a way to turn Constance into a human once more.
Sailor on the Black PearlEdit
"Jean, mate!"
"Jack!"
"Captain Jack!"
"Of course."
―Jack Sparrow and Jean Magliore
A few years after their adventures with Jack Sparrow, Constance was reverted back to her human form, and Jean was working as a sailor on a merchant ship. One day, while his ship was docked in New Orleans, Jean was reunited with Jack, who in the meantime became captain of the pirate ship called the Black Pearl. Jean happily joined Jack's crew, but knowing that Jack wouldn't accept Constance on his ship, he introduced her as "his cousin Marcella". Together, they sailed to find the mystical magical elixir known as the Shadow Gold.
Personality and traits
Edit
Jean was a hard worker, but was known to goof off at times. He had a deep love for his sister and became distressed when she was put in danger. He was also close friends with Tumen and Arabella Smith and willingly followed Jack Sparrow's orders.
Equipment and skills
Edit
"We set sail for the closest port in Antigua to stock up on supplies, with Tumen and Jean navigating and setting our course. Those two really are a pair of excellent sailors."
―Excerpt from Jack Sparrow's log
Jean was a skilled fighter, specializing in fighting side by side with Tumen. His weapon of choice was a rapier which he used with a degree of skill. He also spoke fluent French.
Behind the scenes
Edit
Appearances
Edit
Notes and references
Edit