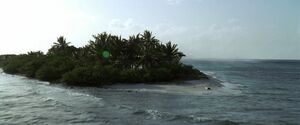 "Last time I saw you, you were all alone on a godforsaken island, shrinking into the distance. His fortunes aren't improved much."
―Twigg to Jack Sparrow
An island or isle was any piece of sub-continental land that is surrounded by water. Very small islands such as emergent land features on atolls can be called islets, skerries, cays or keys. An island in a river or a lake island may be called an eyot, ait, or holm. A grouping of geographically or geologically related islands is called an archipelago.
Appearances
Edit
External links
Edit
Ad blocker interference detected!
Wikia is a free-to-use site that makes money from advertising. We have a modified experience for viewers using ad blockers

Wikia is not accessible if you've made further modifications. Remove the custom ad blocker rule(s) and the page will load as expected.