"We are an unimaginative lot when it comes to naming things."


The title of this article is conjectural.
Although this article is based on canonical information, the actual name of this subject is pure conjecture. Please see the reasons for this title in the "Behind the scenes" section below, and/or the relevant discussion on the talk page.
Unknown
Biographical information
Gender

Male

Ethnic group

Irish

Eye color

Brown

Hair color

Brown

Height

6' (1,83 m)

Born

Unknown (possibly Ireland)

Died

Black Pearl, off Isla Cruces

Also known as

Irish man

Statistics
Ship(s) captained or crewed
Battles
Affiliation
Behind the scenes
First appearance
Last appearance
Cause

Killed by the Kraken

Portrayer
.
"Ever since I was a little lad, I've wanted to sail the seas…forever."
"Sooner than you think! Sign the roster."
―Irish man and Joshamee Gibbs
This man was one of the poor men who Jack Sparrow was going to give to Davy Jones to settle his debt.
Biography
Edit
The Irish man who spoke with a distinctive Irish accent, was hired by Joshamee Gibbs to serve under Captain Jack Sparrow aboard the Black Pearl. Although the man was not informed, Jack intended to give his new recruits over to Davy Jones in order to appease his debt.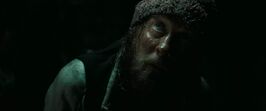 This man was recruited in the Twelve Daggers tavern in Tortuga, where he told Gibbs of his desire to sail the seas forever. Gibbs happily welcomed him aboard. The man soon proved his loyalty to his new captain by restraining James Norrington as the former Commodore attempted to shoot Jack. He served as a cannoneer with the Very Old Man. He was ultimately killed during the Kraken's attack on the Black Pearl off Isla Cruces.
He survived the first Kraken attack, but was crushed by a cannon during the start of the second attack.
Appearances
Edit
Ad blocker interference detected!
Wikia is a free-to-use site that makes money from advertising. We have a modified experience for viewers using ad blockers

Wikia is not accessible if you've made further modifications. Remove the custom ad blocker rule(s) and the page will load as expected.