Hispaniola
Talk

0
2,579pages on
this wiki
Hispaniola
General information
Location
Points of interest
Societal
Affiliation

Buccaneers (formerly)
Kingdom of Spain (eastern part of the island)
Kingdom of France (western part of the island)

Behind the scenes
First appearance
Latest appearance
"We were off the coast of Hispaniola when we came under attack."
Hispaniola was an island north-east of Port Royal. The southern end of the island was the location of the city. Around the city was a jungle and in the jungle, there was an ancient Aztec temple. The pirate-infested island of Tortuga laid off the coast of this massive island.
History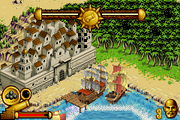 "Do you recall Saint Dominique?"
"La Martinique. I tried to kill you in Saint Dominique."
―Jack Sparrow and Angelica
After 1697, the island was divided into two colonies, one Spanish and one French. The French colony became known as Saint Dominique.
The Spanish part of the island remained the seat of Spanish power in the Caribbean, since this was where the governor of Port Royal went to make a treaty in the 1730s.
At some point before the quest for the Fountain of Youth, Angelica and Jack Sparrow were in St. Dominique, and she unsuccessfully tried to kill him there. In the late 1740s, after the War Against Piracy, the Black Pearl was attacked by Blackbeard's ship, the Queen Anne's Revenge, off the coast of Hispaniola. The attack was successful, and the Pearl was captured.
Behind the scenes
Appearances
Source