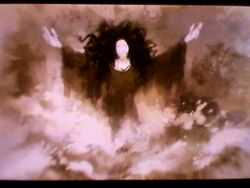 "The Heathen Gods care for nothing and no one but themselves, and she is the worst of them."
―Davy Jones concerning Calypso
A heathen god was any god or goddess that is not of the Christian, Jewish, Muslim, or Baha'i faiths. The known heathen gods include the Aztec gods who placed a curse on the treasure of Cortés[1], Chantico, the sea gods Poseidon and his son Triton, and the sea goddess Calypso.[2]
Appearances
Edit
Notes and references
Edit
Ad blocker interference detected!
Wikia is a free-to-use site that makes money from advertising. We have a modified experience for viewers using ad blockers

Wikia is not accessible if you've made further modifications. Remove the custom ad blocker rule(s) and the page will load as expected.