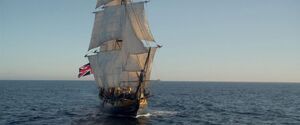 "Why don't I want to be doing it?"
"Well, because...Because the HMS Dauntless, pride of the Royal Navy, is floating just offshore, waiting for you."
HMS, often written as H.M.S., was an acronym for His or Her Majesty's Ship, a title prefixed to vessels of the British Royal Navy. Vessels such as the Dauntless[1], Interceptor[2], Endeavour[3], and Providence[4] carried the title.
Appearances
Source
External links
Notes and references