Grapple was a crew member serving on the Black Pearl under Hector Barbossa, and was one of the pirates cursed by the chest of Hernán Cortés on Isla de Muerta.
Biography
Edit
Grapple was dispatched with his other fellow crewmates and fought in the streets at Port Royal during the siege to reclaim the final gold piece from the chest, engaging William Turner in single combat. Grapple was sent crashing through a window by a shop sign dislodged by a cannonball. He survived, and returned aboard the Black Pearl.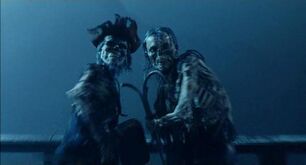 During the battle against the HMS Dauntless, Grapple remained on board the Pearl with Mallot. They both began arguing over what foodstuff to eat first once the curse was lifted. It was at this point that Elizabeth Swann knocked Jack the monkey from the deck. Grapple and Mallot spotted the falling monkey, and raced on deck to find the attacker. Elizabeth sent a lifeboat swinging across the deck, toppling Grapple and Mallot into the ocean in pieces. After William Turner lifted the curse, they both died, either from drowning or not being able to put their bodyparts back together.
Behind the Scenes
Edit
Appearances
Edit
Notes and references
Edit
Ad blocker interference detected!
Wikia is a free-to-use site that makes money from advertising. We have a modified experience for viewers using ad blockers

Wikia is not accessible if you've made further modifications. Remove the custom ad blocker rule(s) and the page will load as expected.