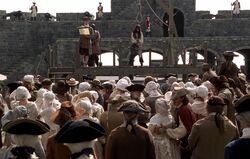 "Gillette, Mr. Sparrow has a dawn appointment with the gallows. I would hate for him to miss it."
The gallows were a frame, typically wooden, used for execution by hanging, or by means to torture before execution, as was used when being hanged, drawn and quartered. Pirates were mainly the individuals given an appointment with the gallows.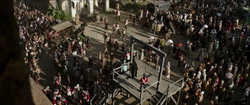 "We know you're in possession of a map."
"So confiscate the map, and to the gallows with him!"
"Have you a map?"
"...No."
Throughout his time in the British Royal Navy, James Norrington intended to see that anyone who sailed under a pirate flag or wore a pirate brand gets a short drop and a sudden stop at the gallows. Norrington continued to believe that shortly after he was promoted to commodore, at which time he had captured the notorious pirate Captain Jack Sparrow, who would stand at the gallows at Fort Charles days later before making an escape.[1] When he took control over the British colony of Port Royal, Lord Cutler Beckett had Will Turner and Elizabeth Swann arrested, with Elizabeth facing the gallows.[2] Beckett later led a mass execution of all persons who were associated with piracy.[3]
Appearances
Edit
External links
Edit
Notes and references
Edit
Ad blocker interference detected!
Wikia is a free-to-use site that makes money from advertising. We have a modified experience for viewers using ad blockers

Wikia is not accessible if you've made further modifications. Remove the custom ad blocker rule(s) and the page will load as expected.