"Fog Bound" is a musical theme credited to Klaus Badelt (with Hans Zimmer's assistance) for Pirates of the Caribbean: The Curse of the Black Pearl. It appears as track one on the film's soundtrack, at 2:16 in length.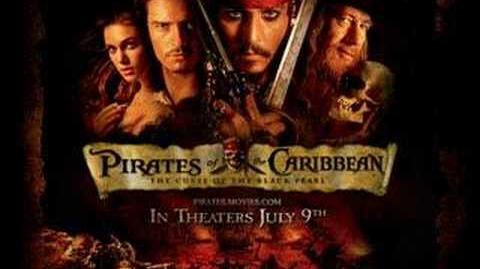 Track Description
Edit
The track begins with a light cello jig before descending into a plodding, suspenseful theme (00:28) that incorporates woodwinds later used to denote the Black Pearl and its cursed crew. The theme reaches a suspenseful climax (approx 01:30) before leading into the film's love theme that continues until the end of the track, segueing directly in to "The Medallion Calls".
The cello jig theme is reprised in part in Walk The Plank and Guilty Of Being Innocent Of Being Jack Sparrow and forms the basis of Jack's Dead Man's Chest theme.
In The Film
Edit
The track accompanies Elizabeth Swann's dream concerning the crossing to Port Royal, and her "present-day" introductory scene.
Ad blocker interference detected!
Wikia is a free-to-use site that makes money from advertising. We have a modified experience for viewers using ad blockers

Wikia is not accessible if you've made further modifications. Remove the custom ad blocker rule(s) and the page will load as expected.