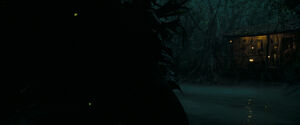 Lampyridae is a family of insects in the beetle order Coleoptera. They are winged beetles, and commonly called fireflies or lightning bugs for their conspicuous crepuscular use of bioluminescence to attract mates or prey. About 2,000 species of firefly are found in temperate and tropical environments. Many are in marshes or in wet, wooded areas where their larvae have abundant sources of food. These larvae emit light and are often called "glowworms", in particular, in Eurasia. In the Americas, "glow worm" also refers to the related Phengodidae. In many species, both male and female fireflies have the ability to fly, but in some species, females are flightless.
Behind the scenes
Edit
Appearances
Edit
External links
Edit
Notes and references
Edit
Ad blocker interference detected!
Wikia is a free-to-use site that makes money from advertising. We have a modified experience for viewers using ad blockers

Wikia is not accessible if you've made further modifications. Remove the custom ad blocker rule(s) and the page will load as expected.