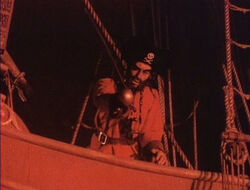 "They needs persuasion, mates...Fire at will!"
Fire at will! was a phrase most commonly said by pirates, meaning to fire when ready. A command that allows troops to use weapons at their discretion and choose their own targets. This allows the individual soldier a greater freedom of timing the shot with breathing, target movement and similar. In contrast, the command fire means to open fire at once.
Behind the scenes
Edit
Appearances
Edit
Notes and references
Edit
Ad blocker interference detected!
Wikia is a free-to-use site that makes money from advertising. We have a modified experience for viewers using ad blockers

Wikia is not accessible if you've made further modifications. Remove the custom ad blocker rule(s) and the page will load as expected.