Fancy
Career information
Port of registry

Unknown, possibly Marseilles

Owner(s)
Captain(s)
Technical information
Type
Weapons

16 cannons

Affiliation
Behind the scenes
First appearance
Latest appearance
"The crew of the Fancy learned from Capitaine Chevalle that all ports have spies, and so they unload their bounty as quickly as possible."
―Unknown
The Fancy was a ship owned by the Pirate Lord Chevalle. With this ship, he plundered poor and rich ships in the waters of the Caribbean. During the War Against Piracy, she was part of Brethren Court Armada that witnessed the Battle of Calypso's maelstrom.
Behind the scenes
Edit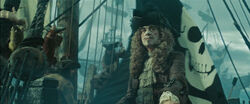 It is possible that this ship is named after the Fancy of the notorious pirate Henry Every.
Appearances
Edit
Pirates of the Caribbean PocketModel game
Ad blocker interference detected!
Wikia is a free-to-use site that makes money from advertising. We have a modified experience for viewers using ad blockers

Wikia is not accessible if you've made further modifications. Remove the custom ad blocker rule(s) and the page will load as expected.