Everard Gordon
Biographical information
Gender

Male

Ethnic group

English

Title(s)

tavern-keeper

Statistics
Affiliation
Behind the scenes
First appearance
Latest appearance
.
"Welcome, welcome, Sir. You'll find everything your heart desires at Evereard Gordon's tavern. If I don't have it, I know where to get it."
―Everard Gordon to Nathaniel Hawk
Everard Gordon was the tavern-keeper of Oxbay tavern. He assisted Nathaniel Hawk's investigation of the French occupying forces by telling him of Valentin Massoni, a French soldier with important information.
Everard Gordon was accused of "profiteering" by Nathaniel Hawk when he refused to give information without first receiving payment. He seems very close to his patrons (although betraying one of them).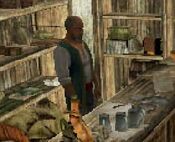 Appearances
Edit
Ad blocker interference detected!
Wikia is a free-to-use site that makes money from advertising. We have a modified experience for viewers using ad blockers

Wikia is not accessible if you've made further modifications. Remove the custom ad blocker rule(s) and the page will load as expected.