"Now...Bring me that horizon."


This article or section contains information about a scheduled or expected future product.
It is likely to contain information of a speculative nature and the content may change dramatically as the product release approaches and more information becomes available. Bear in mind that as updates are required, outdated information is still relevant to a Development section.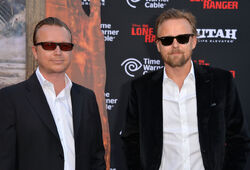 Joachim Rønning and Espen Sandberg is a Norwegian film directing duo, both natives of Sandefjord, Norway. As a directing team, they go under the name of "Roenberg" (their last names put together). They co-own one of Scandinavia's largest production companies for commercials called Motion Blur. In 2006 their feature film debut, Bandidas, starring Penélope Cruz and Salma Hayek, was released worldwide through EuropaCorp and Twentieth Century Fox and was written and produced by legendary French filmmaker Luc Besson.
Their 2012 film Kon-Tiki has been nominated for the Best Foreign Language Oscar at the 85th Academy Awards.[1] Joachim Rønning and Espen Sandberg are currently signed on to direct Pirates of the Caribbean 5.
Biography
Pirates of the Caribbean
On May 29, 2013, it was reported that Joachim Rønning and Espen Sandberg had been brought aboard to direct fifth installment of the Pirates of the Caribbean series, a year after it being being previously reported that On Stranger Tides director Rob Marshall was returning to direct.[2]
External links
Notes and references
Ad blocker interference detected!
Wikia is a free-to-use site that makes money from advertising. We have a modified experience for viewers using ad blockers

Wikia is not accessible if you've made further modifications. Remove the custom ad blocker rule(s) and the page will load as expected.