Edinburgh Trader
Talk

0
2,579pages on
this wiki
Career information
Port of registry
Captain(s)
Notable crewmembers
Passengers
Fate

Destroyed by the Kraken

Technical information
Type
Length

169 feet

Weapons

6-20 cannons

Battles
Affiliation

Great Britain
East India Trading Company
Freetrader

Behind the scenes
First appearance
Last appearance
Cause

Destroyed by the Kraken

Portrayer
The Edinburgh Trader was a 169-foot-long merchant vessel owned and operated by Captain Bellamy and his crew.
History
The ship was docked at Port Royal following Lord Cutler Beckett's arrival, and launched for the open water after Elizabeth Swann escaped from Beckett's custody. Swann stowed away aboard the Trader, disguised as a crewman, intending to reach Tortuga. To this end, she played on the superstitious nature of the ship's crew, using her wedding dress like a puppet to fool the sailors into believing the ship was haunted by a widow's ghost. She was ultimately able to persuade the captain to head for Tortuga. While there, the crew made a tidy profit "off the books."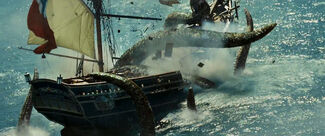 Later, back on the water, the crew picked up Will Turner, having escaped from the Flying Dutchman. However, Davy Jones had set the Kraken after him, and the legendary leviathan rose, dragging Captain Bellamy to the depths, and attacked the Edinburgh Trader. Within minutes, the vessel was destroyed, and the crew killed. Will Turner was the sole survivor, since the other survivors were killed by Jones' crewmen.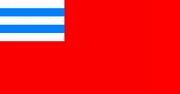 Behind the scenes
Appearances
Notes and references
v

•

d

•

e
Crew of the Edinburgh Trader
[edit]