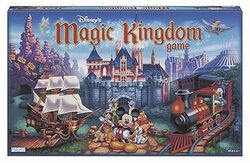 The Disney Magic Kingdom Game is a board game from Hasbro. The game is based on Disney's Magic Kingdom theme park.
Description
Edit
Up to five players go around the board trying to visit five attractions. Event cards along the way can either help or hinder their progress. If the player lands on one of the autograph spots, they get an autograph card. The autograph card can be used to cancel the effects of a event card. The player must have all five attraction cards and be the first player to the exit to win the game.
The board is divided into Adventureland, Fantasyland, Tomorrowland, Frontierland, and Liberty Square/ToonTown. Each of the areas has it's own attractions. The attractions are Pirates of the Caribbean, Space Mountain, the Haunted Mansion, Sleeping Beauty's Castle, and Mickey's Country Home. Special spots the event cards can send the player to include the first aid station, the lost and found, the lunch area, and the parade viewing area. The game also includes railroad stations that can help the player move quickly around the park.
Pirates of the Caribbean Content
Edit
Pirates of the Caribbean is one of the game's attractions.
Ad blocker interference detected!
Wikia is a free-to-use site that makes money from advertising. We have a modified experience for viewers using ad blockers

Wikia is not accessible if you've made further modifications. Remove the custom ad blocker rule(s) and the page will load as expected.