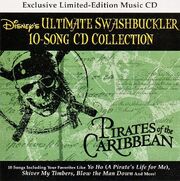 Disney's Ultimate Swashbuckler Collection is a promotional compilation of pirate music. The CD came as a bundle with Pirates of the Caribbean: Dead Man's Chest. Many of the songs are also found on Pirates of the Caribbean: Swashbuckling Sea Songs.
Track listing
Edit
The Legend of Davy Jones: Forty Fathoms Below
Shiver My Timbers
Sailing for Adventure
Blow the Man Down
The Pirate King
Pirates of the Black Tide
A Whale of a Tale
External links
Edit
Ad blocker interference detected!
Wikia is a free-to-use site that makes money from advertising. We have a modified experience for viewers using ad blockers

Wikia is not accessible if you've made further modifications. Remove the custom ad blocker rule(s) and the page will load as expected.