Dark Magic
Talk

0
2,578pages on
this wiki
"No need to hurt him, Father."
―Angelica to Blackbeard
Dark Magic, also referred to as the Black Arts[1], was magic intending to cause harm to others. This sinister sorcery, often associated with Voodoo, was mainly used in the Caribbean and other untamed regions of the world. All rite, incantations, and paraphernalia of the dark arts range from creating zombies to voodoo dolls to darts with a sleep-inducing elixir.
History
Legend
Born in the jungles of the Caribbean Isles, Dark Magic had spread all across the untamed regions of the world. Practitioners of this sinister sorcery, known as either magicians or, being related to Voodoo, voodooists, intended to do harm of others, or make them do their bidding. Cunning men have learned how to harness the power of dark magic, but this magic is a double-edged sword, and could bring the downfall of the very ones who seek to use it. The only known material that could disrupt this magic is metal.[2]
It is possible that engaging in the dark arts extensively for many years would damage to the soul, even to a point of destroying it. For instance, Blackbeard was said to be possessed of a tattered soul, lost to forces of darkness,[3] with Blackbeard himself referred to his soul as if it was practically gone, in saying "what's left of it."[4]
Blackbeard
"Blackbeard. Edward Teach. The pirate all pirates fear. Resurrector of the dead in his spare time."
―Jack Sparrow to Angelica about Blackbeard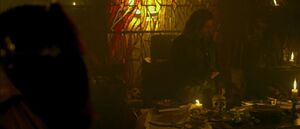 Sometime after 1718, the infamous pirate Blackbeard began to study the Black Arts, in which he would become a powerful voodooist. Blackbeard would dabble in the dark arts within his private chamber in the captain's cabin aboard the Queen Anne's Revenge, which appeared more like the den of an evil magician. Potions, poisons, and all paraphernalia of the dark arts were placed in many points in the cabin, which was lit by dripping candles and festooned with mystical artifacts, all designed to fill visitors with fear. But because of his aggression in using this sinister sorcery had resulted in Blackbeard being possessed of a tattered soul.[3]
The supernatural powers that Blackbeard possessed were most notably seen during the quest for the Fountain of Youth. Using Greek fire and practiced rituals, Blackbeard was able to create zombies that would serve as his loyal officers aboard the Queen Anne's Revenge. Another example would be using powerful voodoo dolls that can affect individuals, to a point of either enslaving unwilling victims or causing pain. Voodoo darts dipped with a secret, sleep-inducing elixir were also very effective; for instances, they were used on Jack Sparrow in order to get him aboard the Queen Anne's Revenge, and later used on Philip Swift to make him seem dead.[4]
Behind the scenes
Appearances
Sources
Notes and references