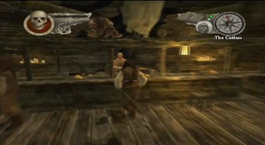 The Cutlass Tavern was a tavern located in Shipwreck City. Like many buildings in the city, the tavern was constructed out of several shipwrecks.
The Cutlass Tavern was one of the more upscale taverns, and was frequented often by Pirate Lords, especially Sri Sumbhajee. Prior to the fourth meeting of the Brethren Court, "Stupid" Barnaby pick-pocketed Sumbhajee and stole his piece of eight while the Pirate Lord was in a drunken stupor. Captain Jack Sparrow later questioned the tavern's bar keeper about these events.[1]
Appearances
Edit
Notes and references
Edit
Ad blocker interference detected!
Wikia is a free-to-use site that makes money from advertising. We have a modified experience for viewers using ad blockers

Wikia is not accessible if you've made further modifications. Remove the custom ad blocker rule(s) and the page will load as expected.