Codex:W
Talk

0
2,574pages on
this wiki
W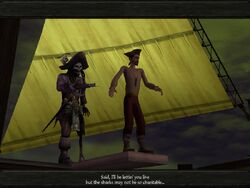 To be forced to walk to one's death by stepping off a plank extending from the ship's side over the water.[1]
A ritual officially celebrating the beginning of a marriage through a ceremony. William Turner and Elizabeth Swann were officially wed during the Battle of Calypso's maelstrom by Hector Barbossa.
Whale oil
Any of various oils and fats extracted from the blubber of whales and used in the manufacture of soap and lubricants. Whale oil is used to light up the lighthouse in Whitecap Bay.
Whelp
The young of a mammal; an insolent youth. Will Turner was referred to as "the whelp" by both Hector Barbossa and Jack Sparrow on some occasions. Jack Sparrow was once called "Teague's whelp" by Davy Jones.
Witch
A man or woman who is learned in and actively practices witchcraft.
World's End
An area within the Farthest Gate, likely named for the massive waterfall which served as the entrance to Davy Jones' Locker.[2]
Wretch
An unhappy, unfortunate, or miserable person; an unpleasant, annoying person. Wretch was a term usually against those who were careless or spend a life as a miscreant, rogue, scoundrel, or pitiable person. The term "wretch" was referred to both Jack Sparrow[3] and Angelica.[4]
Notes and references