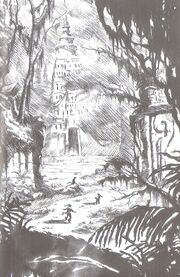 "Well, good day, City of the Dead."
The City of the Dead was a ruined city located on Isla Esquelética.
"This place is accursed. We should not tarry here."
"No, wait! Jack! 'A city neat and well-designed, like the Romans built.' A pirate paradise!"
The city was founded by Stone-Eyed Sam and his pirates. Using the Sword of Cortés, he hypnotized his men into believing that they were Aztecs.
The city was planned in the Roman-style. The city was full of normal things such as taverns and houses. A fire believed to represent Chantico was constantly kept burning.
In the middle of the city was an ornate palace. Decorated with pictures of the Aztec gods, the palace was where Stone-Eyed Sam lived and held court. The palace was guarded by a trapdoor built above quicksand.
Apppearances
Edit
Ad blocker interference detected!
Wikia is a free-to-use site that makes money from advertising. We have a modified experience for viewers using ad blockers

Wikia is not accessible if you've made further modifications. Remove the custom ad blocker rule(s) and the page will load as expected.