China
General information
Continent
Points of interest
Notable inhabitants
Societal
Affiliation
Behind the scenes
First appearance
Latest appearance
"Ew, China. I hear they eat with sticks, instead of forks like civilized people."
China was a country located on the Pacific Ocean and South China Sea.
"What ports of call on your voyage to China, Mister de Ver?"
"Marseilles, mon capitan. Where the best ships, the ships built by Frenchmen, they are docking!"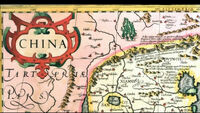 In the 1720s, Shanghai was the headquarter of the Pirate Confederation of China, led by Mistress Ching.
Appearances
Edit
External links
Edit