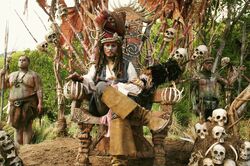 "Why would he do this to us? If Jack is the chief—"
"Aye, the Pelegostos have made Jack their chief. But he only remains chief as long as he acts like a chief."
―Will Turner and Joshamee Gibbs on Jack Sparrow
A chief was a leader or head of a group of people. Jack Sparrow was the chief of the Pelegostos, a title which was later given to the Prison Dog.
Appearances
Edit
External links
Edit
Ad blocker interference detected!
Wikia is a free-to-use site that makes money from advertising. We have a modified experience for viewers using ad blockers

Wikia is not accessible if you've made further modifications. Remove the custom ad blocker rule(s) and the page will load as expected.