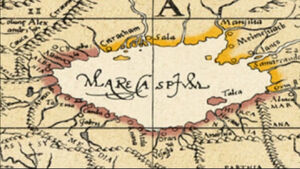 "That's Koldunya—means 'witch' in Russian—and she belongs to Boris Palachnik, the Pirate Lord of the Caspian Sea. Borya's our rogue pirate captain."
The Caspian Sea was the largest lake on Earth by area, with a surface area of 371,000 square kilometers (143,244 sq mi) and a volume of 78,200 cubic kilometers (18,761 cu mi). It was a landlocked endorheic body of water lying between Russia and Iran. It had a maximum depth of about 1,025 meters (3,363 ft).
Pirate Captain Hector Barbossa became Pirate Lord of the Caspian Sea, and was wanted dead or alive by the East India Trading Company for piracy in the area.[1] His predecessor was Borya Palachnik.[2]
Appearances
Edit
Notes and references
Edit
↑ The Price of Freedom Chapter 10: "Revelations"
External links
Edit
Ad blocker interference detected!
Wikia is a free-to-use site that makes money from advertising. We have a modified experience for viewers using ad blockers

Wikia is not accessible if you've made further modifications. Remove the custom ad blocker rule(s) and the page will load as expected.