Carriage Chase is a musical theme composed by Hans Zimmer for Pirates of the Caribbean: On Stranger Tides. It appeared as a track on the film's complete soundtrack.
Track Details
Edit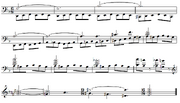 The track opens with a light descending arpeggio, before moving into an excerpt from the end of "At Wit's End", featuring an aggressive bassline. After the end of the excerpt comes a several short action cues, including an action variation on Davy Jones' theme, followed by the three note descending figure from "Barbossa Is Hungry", and followed again by an ascending scalic figure. The whole section continues the rugged motor rhythm bassline. The piece then goes through two themes heard in "Jack Sparrow" and the adapted British theme. There is another reprisal of he ascending scalic figure heard previously, followed by more action material that is not comprised of any recognizable recurring themes.
As the title suggests, this track plays during Jack Sparrow's escape from St. James's Palace on the top of a carriage, while being pursued by the King's Royal Guard.
The section from 0:27 to 0:54 is very similar to the opening of "Battle Montage", except Davy Jones' theme is used as opposed to Blackbeard's. This theme is also referred to as "A Jar of Dirt" and the "Triple Guns" theme.
This track features the only reprisal of the music from "At Wit's End".
Appearances
Edit
Ad blocker interference detected!
Wikia is a free-to-use site that makes money from advertising. We have a modified experience for viewers using ad blockers

Wikia is not accessible if you've made further modifications. Remove the custom ad blocker rule(s) and the page will load as expected.