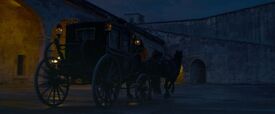 "I hoped that fact wouldn't have to become public knowledge, sir, because when I docked in London, the EITC office there put me in a carriage and ordered me to go see Captain Bainbridge's family. So I could tell them…he was gone."
A carriage was a wheeled vehicle for people, usually horse-drawn. The carriage was especially designed for private passenger use and for comfort or elegance, though some were also used to transport goods or even prisoners.
Appearances
Edit
External links
Edit
Ad blocker interference detected!
Wikia is a free-to-use site that makes money from advertising. We have a modified experience for viewers using ad blockers

Wikia is not accessible if you've made further modifications. Remove the custom ad blocker rule(s) and the page will load as expected.