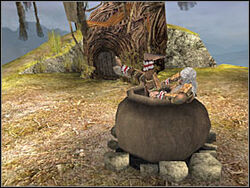 "Looks like you'll need some help on this one mate... She might be more woman than you can handle!"
This woman was a member of the Pelegostos tribe during the time of Lord Cutler Beckett's control over Port Royal. She attacked Will Turner, but ended up getting stuck inside a couldron, whilst Jack Sparrow threw a coconut on her head, knocking her unconscious.
Appearances
Edit
Ad blocker interference detected!
Wikia is a free-to-use site that makes money from advertising. We have a modified experience for viewers using ad blockers

Wikia is not accessible if you've made further modifications. Remove the custom ad blocker rule(s) and the page will load as expected.