Calypso
Talk

19
2,529pages on
this wiki
This article is about the sea goddess Calypso. You may be looking for the soundtrack cue "Calypso".
"Calypso. An old legend."
"No. The goddess herself, bound in human form...fury or favor, you not be knowing, but when the mood strikes her, and it's her favor she bestows on a lucky sailor, well, you've heard...legendary."
―Sao Feng and Hector Barbossa
Calypso was a sea goddess and daughter of Atlas. In the days of myth and legend, the beautiful Calypso ruled the seas, and all sailors both loved and feared her, even though she too had mortal blood. As a heathen goddess, Calypso was able to take many forms, but since the crab was attributed as her symbol, she chose that form.
According to one particular legend, Calypso fell in love with a young sailor named Davy Jones. And she rewarded that love by giving Davy Jones the Flying Dutchman as well as the sacred task of collecting all the poor souls who died at sea, and ferrying them to the worlds beyond. Because of that love, Davy Jones agreed to set foot on land once every ten years, where Jones would be free to come ashore to be with Calypso. But when Davy Jones came ashore after his ten year duty, Calypso was nowhere to be found, for the seas are fickle and unpredictable, as was the powerful goddess who ruled that domain. So Davy Jones plotted with the First Brethren Court, unbeknownst to Calypso, where they would tear the rule of the seas away from the sea goddess and imprison her into the body of a mortal woman.
Over the years, the imprisoned Calypso assumed the alias of a voodoo mystic named Tia Dalma. It wasn't until around the War Against Piracy that she gained an opportunity for freedom. Tia Dalma/Calypso needed all the Pirate Lords in order to assemble the Brethren, so they could release her from her human bonds. She resurrected Hector Barbossa and tricked him to retrieve Jack Sparrow from Davy Jones' Locker and summon a fourth meeting of the Brethren. But those Pirate Lords grew fearful, for when they convened, they only argued and fought among themselves, afraid of Calypso's anger at their treachery. While the Brethren convened, Jones reunited with Calypso, who intended to be free and punish the Brethren, until Barbossa undid the spell that bound her to mortal flesh where she realized Jones' betrayal.
Now free, Calypso's wrath became horrible to behold as the enraged goddess gathered the waters of the ocean around herself in a massive maelstrom, where a battle raged at the center of it. And it was in that very battle that Davy Jones' heart was pierced and he died. With his death, Davy Jones was welcomed back into the dark embrace of the sea; for Calypso in her own way still loved him.
Biography
Edit
Mythology
Edit
"In the days of myth and legend, the beautiful Calypso, daughter of Atlas, ruled the wine-dark seas, and all sailors everywhere both loved and feared her."
―Unknown
In seagoing lore and mythology, Calypso was described as a sea goddess, though it was also said she had mortal blood. Daughter of the Titan Atlas, she was described as a woman as changing, harsh, and untameable as the sea. As a heathen goddess, Calypso was able to take many forms. But since the crab was attributed the crab as her symbol, most notably by pirates, she chose that form.[2] All sailors everywhere both loved and feared Calypso, as the seas were fickle and unpredictable as was the powerful goddess who ruled that domain.
At some point in her life, Calypso designed a special metal chamber in which the mermaids locked the magical gems of Poseidon, thus making themselves immune to the power of the Trident of Poseidon.[3]
Love and loss
Edit
"The king and his men stole the queen from her bed / And bound her in her bones."
―from Hoist the Colours
Though she was harsh and untameable as the sea itself, Calypso nevertheless fell deeply in love with a sailor named Davy Jones. She charged him with carrying out the duty of ferrying souls drowned at sea to the afterlife, giving him use of the Flying Dutchman to visit the dimension between worlds that came to be known as Davy Jones' Locker. As a reward for carrying out a decade of service, Jones would be reunited with Calypso for a single day, and if she was faithful, he could come and go on land or sea forevermore afterward.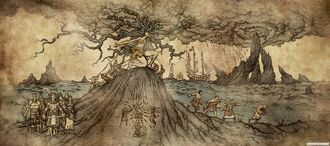 Jones remained true to his word, and spent the next ten years faithfully carrying out his duty. Calypso was not waiting for him when he returned to the land of the living, however, as her very nature would not allow her to wait. Despairing, Jones carved out his own heart and locked it in the Dead Man's Chest, and left the dead to wander aimlessly in the Locker. Because he abandoned his duty, Jones transformed into an amalgamation of human and tentacled sea creature to reflect the monster inside, and any who joined his crew suffered similar disfigurements.
Seeking revenge, Jones made a deal with the First Brethren Court to imprison Calypso in human form. Led by the original Pirate King, the Pirate Lords' nine pieces of eight were used to bind Calypso into the body of Tia Dalma, and only with all nine pieces could she ever be released. With Calypso's fiery and unpredictable nature bound, the Brethren Court deemed the seas safe to travel as they so pleased.
The wrath of Calypso
Edit
Life as Tia Dalma
Edit
"I do not renege on a bargain once struck. But we agreed on ends only. The means are mine to decide."
"Caution, Barbossa. Do not forget that it was by my power you return from the dead. Or what it mean if you fail me."
"Don't you forget why you had to bring me back. Why I could not leave Jack to his well-deserved fate."
―Hector Barbossa and Calypso
As Tia Dalma, Calypso became a mystic living out of a shack on the Pantano River. She kept with her a locket that matched one carried by Davy Jones, and would play a mournful tune that hinted at their lost love. Dalma befriended Jack Sparrow during his early life; the man who would go on to become the Pirate Lord of the Caribbean Sea, and thus integral to Calypso's desire to escape her human form.
With the death of Hector Barbossa, Lord of the Caspian Sea, came a prime opportunity for Dalma. Calypso resurrected Barbossa, ensuring his complicity in her attempt to break free. After Jack Sparrow was dragged to Davy Jones' Locker by the Kraken, Barbossa set off on a mission to free him, and therefore ensured that his Piece of Eight was not lost.
On the quest for freeing Jack Sparrow from the Locker, the crew led by Barbossa captained the Hai Peng into World's End. They landed in the Locker. Soon, Jack Sparrow began to notice that the Pearl was being dragged across the sand by crabs. The ship reached the crew with the help of the crabs that were actually under the control of Calypso.
Releasing Calypso
Edit
"Imagine all the power of the seas brought to bear against our enemy. I intend to release her. But for that I need the Brethren Court. All the Court."
By this time, the machinations of Lord Cutler Beckett had forced the Brethren Court to convene for the fourth time in its existence, and it was here that Barbossa brought up the notion of releasing Calypso. During the meeting, Ragetti absconded with all but two of the Pirate Lords' Pieces of Eight—the eighth was collected by Barbossa himself from Elizabeth Swann and the ninth from Jack Sparrow. All nine were gathered aboard the Black Pearl, where Tia Dalma had been bound. Ragetti completed the incantation that would release Calypso, and the pieces of eight set alight. Moments before she was released, Calypso finally learned who had called upon the Brethren Court to capture her all those years ago: Will Turner informed her of Davy Jones' betrayal.
"I will be free, and when I am I would give you my heart. And, we would be together, always. If only you had a heart to give."
―Calypso to Davy Jones
Enraged, Calypso, still in Dalma's form, grew massive in size, dwarfing the crew of the Pearl. After being freed from her human bonds, Calypso yelled in her native tongue, seemingly as insults to the pirates but in reality it was an incantation, before exploding outwards in a shower of crabs. Calypso's spirit, now free at last, disappeared into the air, though her influence on events was not ended. As the Black Pearl and the Flying Dutchman prepared for a showdown, Calypso used all of the power of the seas to unleash a terrible storm, which created a maelstrom between the two fleets. And the wind from the storm evened the balance for the Pearland caused Davy Jones to let out a cry of anguish as he realized what the storm signified.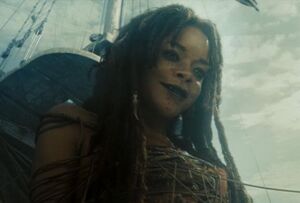 The battle that followed sealed Davy Jones' fate, as Jack Sparrow helped Will Turner stab Jones' disembodied heart. With his last breath, Jones whispered Calypso's name, and toppled into the maelstrom, which soon abated when the Flying Dutchmanitself followed its former captain. Whether Calypso and her love were reunited after Jones' death remained unknown.
"Calypso...I come before you as but a servant, humble and contrite. I have fulfilled me vow, and now ask your favor. Spare meself, me ship, me crew and unleash your fury upon those who dare pretend themselves your masters...or mine."
"...Malfaiteur en Tombeau, Crochir l'Esplanade, Dans l'Fond d'l'eau!"
―Hector Barbossa and Calypso
Personality and traits
Edit
Calypso was a seductive temptress who won the heart of Davy Jones although Jones believed that she only pretended to love him in return since she did not remain faithful to him after his ten years of service to her. However, Calypso's later interactions with Jones imply that she may still love him and she seemed saddened by what her lover had become.
Calypso possessed a fiery and unpredictable nature reflecting the fact that she was a goddess of the wild and untameable sea. She was also vengeful and since she was a very powerful goddess she was extremely dangerous when angered, summoning a devastating storm after discovering that Davy Jones had told the Brethren Court how to trap her in the form of a human.
Behind the scenes
Edit
Appearances
Edit
Non-canon appearances
Edit
Notes and references
Edit