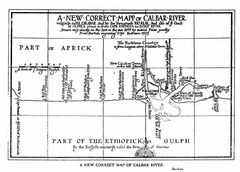 "She'll cut quite a figure, eh, mate?"
"The masts look to be in good shape. We'll need to go over all her canvas."
"First, though, we've got to get her hull shipshape. We'll take her up one of the Calabar's tributaries half a mile, and careen her on one of those nice sandy banks."
The Calabar River was a river in Africa, flowing near the city of Calabar. The river at Calabar was deep enough to form a natural harbor for vessels with a draft of 6 metres (20 ft).
Appearances
Sources
External links