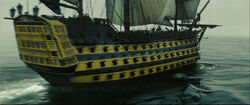 "Give 'em a broadside! Pound 'em lads! Pound 'em!"
Broadside most commonly refers to the firing of all the cannons on one side of a ship. It also may refer to either the literal 'broad side' of the ship (meaning the port and starboard sides of the ship), or the ammount of guns on either side. Most professional naval gun crews can deliver a broadside of fire every 2-5 minutes, while a pirate crew usually boards after firing and doesn't bother reloading. 
Broadsides were used throughout the Golden Age of Piracy. A full broadside was used in the battle between the Black Pearl and the Interceptor, where both ships each threw a broadside to kick off the fight. However the Interceptor tried, the Black Pearl was easily able to outgun it.[1] Broadsides were given through many other ship battles.
Behind the scenes
Edit
Appearances
Edit
External Links
Edit
Notes and references
Edit
Ad blocker interference detected!
Wikia is a free-to-use site that makes money from advertising. We have a modified experience for viewers using ad blockers

Wikia is not accessible if you've made further modifications. Remove the custom ad blocker rule(s) and the page will load as expected.