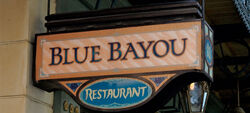 The Blue Bayou restaurant is a full-service Cajun/Creole restaurant located in New Orleans Square. The restaurant was built into Pirates of the Caribbean, so the diners seem to be eating at night in the Blue Bayou. Only Disneyland, Disneyland Paris, and Tokyo Disneyland have Blue Bayou restaurants. Some of the items on the menu have pirate-themed names, including names taken from the Pirates of the Caribbean films.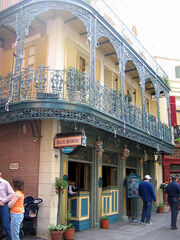 The earliest inklings of the Blue Bayou restaurant began as early as the 1930s. It began life as a segment of Fantasia using the music Clair de Lune. It got to pencil testing before it was decided that Fantasia was too long and the segment was cut. It re-edited for 1946's Make Mine Music using the song Blue Bayou.
Another inspiration was The Plantation House restaurant. The Plantation House had a Southern theme, being placed near Tom Sawyer Island and the Rivers of America, as well as specializing in chicken. The Plantation House Restaurant was torn down when New Orleans Square was built.
When New Orleans Square was built, the Imagineers decided that the Blue Bayou segment of Pirates of the Caribbean would be a good setting for a restaurant. The design of The Plantation House also seemed good. Thus, the Blue Bayou Resaurant was born.
Appetizers
Edit
Gulf-Stream Jumbo Shrimp Remoulade
Isla Cruces Crab Cakes
Alaskan King Crab Legs (Dinner Only)
Buccaneer's Beef Short Ribs
Cajun-Spiced Salmon
Filet Mignon (Dinner Only)
Five-Pepper Roasted Prime Rib of Beef
Le Special de Monte Cristo (Lunch only)
Port-Royal Mahi Mahi
Portobello Mushroom and Couscous Maque Choux
Molasses-Brined Bayou Pork Chop
Royal Street Seafood Jambalaya
Tesoro Island Chicken
Blue Bayou chocolate mint doubloons
Flying Dutchman Cookie Boat
The Key West, Key Lime
Tortuga Trio of Creme Brulee
Children's Menu
Edit
Citrus Chicken Drumettes
Kid-Cut Prime Rib
Mickey's Cheesy Macaroni
PB&J Monte Cristo
External Links
Edit
Ad blocker interference detected!
Wikia is a free-to-use site that makes money from advertising. We have a modified experience for viewers using ad blockers

Wikia is not accessible if you've made further modifications. Remove the custom ad blocker rule(s) and the page will load as expected.