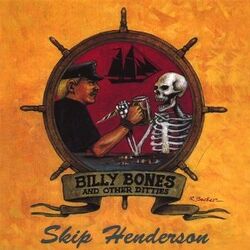 Billie Bones and Other Ditties is an album of pirate music. Among the songs is Two Hornpipes (Tortuga), which was later purchased by Disney for use in Pirates of the Caribbean: Dead Man's Chest.
The music is either traditional sea shanties or composed by Skip Henderson. The music was performed by Skip Henderson and the Starboard Watch.
Track listing
Edit
The Quilty Hornpipe
Billy Bones
General Taylor
Tarpaulin Jacket
Ben Backstay''
The Mermaid
Bold Jack
Kerry recruit
We're All Bound to Go
Two Waltzes
Sailor's Consolation
Porter
Chivalrous Shark
Oliver Martin (Whiskey Harbor)
Song Of A Ship
External links
Edit
Ad blocker interference detected!
Wikia is a free-to-use site that makes money from advertising. We have a modified experience for viewers using ad blockers

Wikia is not accessible if you've made further modifications. Remove the custom ad blocker rule(s) and the page will load as expected.