Barbary Corsairs
General information
Leader
Notable members
Headquarters
Locations
Other information
Affiliation
Behind the scenes
First appearance
Latest appearance
The Barbary Corsairs, also known as Barbary Pirates or Ottoman Corsairs, were a group of pirates and privateers that operated from the Barbary coast in North Africa.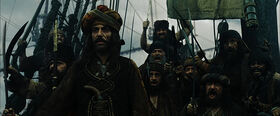 Among their most prominent and notorious leaders was Pirate Lord Ammand, who commanded a fleet of galleys.[1] The Barbary Corsairs were known to attack trade ships of the "Christian infidels", and preyed on all trade from the Gulf of Morocco to Turkey, due to Ammand serving as a privateer for the Ottoman Empire.[2] They frequently crossed blades with the Spanish Treasure Fleet of Eduardo Villanueva as they operated in the same waters.
Known ships
Edit
Behind the scenes
Edit
Appearances
Edit
External links
Edit
Notes and references
Edit
Ad blocker interference detected!
Wikia is a free-to-use site that makes money from advertising. We have a modified experience for viewers using ad blockers

Wikia is not accessible if you've made further modifications. Remove the custom ad blocker rule(s) and the page will load as expected.