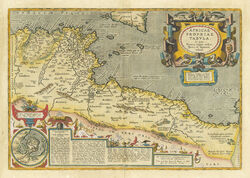 The Barbary Coast was the term used to describe the area of coastal regions of Morocco, Algeria, Tunisia, and Libya. The name was derived from the Berber people of North Africa.
The Barbary Corsairs were known to operate out of the Barbary Coast for centuries. The Pirate Lord Ammand the Corsair was the leader of this group during the War against piracy. He was wanted dead or alive by the East India Trading Company for crimes including piracy along the Barbary Coast.[1]
Notes and references
Edit
External links
Edit
Ad blocker interference detected!
Wikia is a free-to-use site that makes money from advertising. We have a modified experience for viewers using ad blockers

Wikia is not accessible if you've made further modifications. Remove the custom ad blocker rule(s) and the page will load as expected.