"We are an unimaginative lot when it comes to naming things."


The title of this article is conjectural.
Although this article is based on canonical information, the actual name of this subject is pure conjecture. Please see the reasons for this title in the "Behind the scenes" section below, and/or the relevant discussion on the talk page.
Unknown
Biographical information
Gender

Male

Title(s)

Artisan

Statistics
Affiliation
Behind the scenes
First appearance
Latest appearance
.
"The map is finished, sir."
"...Just the way I imagined it."
―Artisan and Cutler Beckett
This Artisan was a man employed by the East India Trading Company to paint a map of the world in Lord Cutler Beckett's office when he set up residency in Port Royal.
Biography
Edit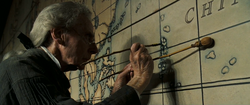 At some point, this man began to serve the East India Trading Company. By the time of Lord Cutler Beckett's arrival to Port Royal, this man was required to paint a world map in Beckett's office. He had to make daily changes to the map as ships brought reports of the Company's growing power and new discoveries across the Seven Seas. As of Beckett's deal with William Turner, the countries of the map were filled in, though most ports and towns remained blank.[1]
By the time Beckett assumed control of the Flying Dutchman, the artisan told Beckett of the map's completion. The fate of its artisan remains unknown.
Behind the scenes
Edit
Appearances
Edit
Notes and references
Edit
Ad blocker interference detected!
Wikia is a free-to-use site that makes money from advertising. We have a modified experience for viewers using ad blockers

Wikia is not accessible if you've made further modifications. Remove the custom ad blocker rule(s) and the page will load as expected.