General information
Notable members
Ships

At least seven ships

Headquarters
Other information
Behind the scenes
First appearance
Latest appearance
"They say, 'Dead men tell no tales'. But my tale is just beginning."
The Armada of the Damned was the fleet of ghost ships operated by pirates during the 18th century. When James Sterling was killed by Admiral Maldonado, his body sank to the bottom of the ocean, where it was found by undead crewmen of the Armada. Their leader, an undead pirate captain, resurrected Sterling[1] and gave him the choice to continue his pirate career as member of his cursed crew, or as normal human being.
Behind the scenes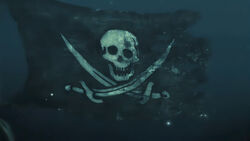 According to the Armada of the Damned trailer, the Armada flew the same pirate flag used by Hector Barbossa.
If Sterling rejects the curse of the Armada, he will end his pirate days as a dashing and notorious swashbuckler, but if he accepts the curse, he will become the most dreaded pirate on the Seven Seas.
Appearances
Notes and references