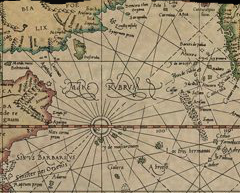 "Oh, hey. I mean, all hail how does it go again?"
"HAIL THE GREAT AND WONDROUS SRI SUMBHAJEE, PIRATE LORD OF THE INDIAN OCEAN AND TERROR OF THE ARABIAN SEA!"
"Yeah. That."
―Mannajee Angria and Askay
The Arabian Sea, also known as the Persian Sea, was a part of the Indian Ocean to the west of India and east of Yemen and Oman.
Appearances
External links