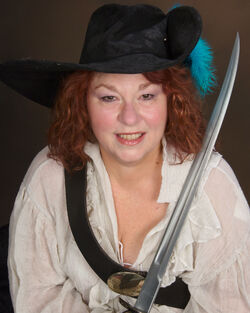 Ann C. Crispin (April 5, 1950 – September 6, 2013) was an American science fiction writer, the author of twenty-three published novels. Her writing career began in 1983. She wrote several Star Trek novels, and created her own original science fiction series called Starbridge. She also wrote Pirates of the Caribbean: The Price of Freedom, the first adult novel set in the Pirates of the Caribbean world.
External links
Edit
Ad blocker interference detected!
Wikia is a free-to-use site that makes money from advertising. We have a modified experience for viewers using ad blockers

Wikia is not accessible if you've made further modifications. Remove the custom ad blocker rule(s) and the page will load as expected.