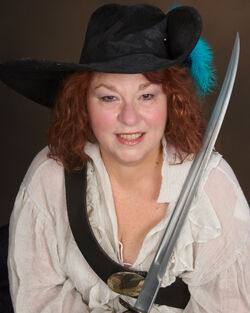 About me
Hi, A.C. Crispin here. I really hate talking about myself! I never know what to say. I'd much rather talk about my writing and my books.
My next book to be released will be a Pirates of the Caribbean novel, titled The Price of Freedom. It's the story of Jack Sparrow in his early 20's, both at Shipwreck Cove and also when he was Captain of the Wicked Wench, sailing for the East India Trading Company, under the direction of Cutler Beckett. You can read excerpts from the novel on my website, www.accrispin.com.
The book will be released May 17, 2011, the same week as the new Pirates of the Caribbean film, "On Stranger Tides." But my book isn't tied in to the film -- instead it's a prequel to the Pirates of the Caribbean films.
"Moon Ship" original art by Theresa Mather, used with permission. View Theresa Mather's works at: www.RockFeatherScissors.com
My favorite pages
Add links to your favorite pages on the wiki here!
Favorite page #2
Favorite page #3
External links
Ad blocker interference detected!
Wikia is a free-to-use site that makes money from advertising. We have a modified experience for viewers using ad blockers

Wikia is not accessible if you've made further modifications. Remove the custom ad blocker rule(s) and the page will load as expected.